Future Residents
Colonial Court Apartments offers spacious, well-maintained apartment rental homes at affordable rates. Our community is in walking distance of shopping and restaurants. It's located close to the Tri-State Expressway for easy access to most parts of the greater Chicago land areas.
Our buildings are solid flex core construction for safety and sound proofing. Call today to schedule an appointment to see our beautiful one- and two- bedroom rental homes.
Gallery
Look through our pictures and see why our residents love us!
Floor Plans
We have stylish and affordable two- and three-bedroom apartment homes.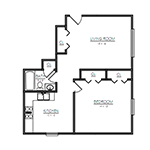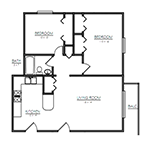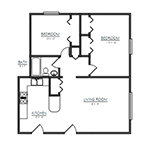 Rental Application
Thinking of making your home at Colonial Court Apartments? We encourage you to fill out an application quickly as our units typically don't stay empty long.
Please make sure you fill out your application as completely and accurately as possible. If something does not apply, please indicate this with an "N/A." Incomplete applications, false information, and mistakes can result in the rejection of your application.
Once your application, application fee, and supporting documentation has been received, we will begin processing your application. Please see our rental policies for complete details of our application process and rental criteria. Application review can take up to three days. You will be notified by telephone if your application has been approved. Upon approval, you will be required to bring your security deposit and sign the lease within 48 hours of notification.
Download our Rental Application
Download Banking ACH Authorization Form
Email your completed application to info [at] colonialcourtapartments [dot] net or fax it to (888) 555-1212.
Rental Policies
We encourage all potential residents to take a moment to review our rental policies. If you have questions about any of our policies, please contact us.
Colonial Court Apartments proudly provides equal housing opportunity to all. We abide by all fair housing practices, and we do not discriminate on the basis of race, ethnicity, religion, national origin, familial status, age, source of income, gender identity, sexual orientation, ability status, or any other factor that is unrelated to an applicant's ability to comply with our rental agreement and community policies.
Colonial Court Apartments does not permit pets. This includes, but is not limited to, dogs, cats, ferrets, exotic animals, reptiles and birds.
A non-refundable application fee of $25.00 is required for each application. Checks should be made payable to Colonial Court Apartments. Each applicant over the age of 18 must fill out an application for residency and submit an application fee.
All applicants must be at least 18 years old. Any minor who will occupy the apartment on a regular basis must be listed on the application and must be under the direct supervision of the adult applicant(s).
All applicants must provide two forms of identification, including a current valid driver's license or other form of state-issued photo identification. The photo identification is used solely for the purpose of verifying your identity. A copy of your identification will be kept on file if you are accepted as a tenant.
A report with your credit history, eviction history and criminal record will be obtained upon application directly from our reporting agency. An unsatisfactory report may disqualify you from renting an apartment in our community. If you have little or no credit history, you may be required to pay an additional secruity deposit provided you meet our other rental criteria.
You must provide five years' worth of resident and/or rental history on your application. If you were a homeowner, information for your mortgage and mortgage lender should be substituted for property and landlord information.
If you have no rental history, you may still be accepted if all other co-applicants meet our rental requirements.
If you have been evicted within the last three years, if you have a landlord/tenant judgement against you, or if you have a judgement where you owe a previous landlord money, your application will be denied.
Additionally, a history of late rent payment; a record of disturbance of neighbors; destruction of property; living or housekeeping habits at a prior residence which may adversely affect the health, safety, or welfare of other residents; illegal occupants; or unauthorized pets may result in denial of your application.
You must have a stable income. All employment data used to meet income criteria will be verified, including your salary, start date, and length of employment. You must provide copies of your last two consecutive pay stubs with your rental application. Other acceptable forms of income verification may include a W-2 form or a letter of verification written on your employer's letterhead indicating dates of employment and your monthly income.
We maintain a strict policy of confidentiality and protect the privacy of our applicants and residents. We will not discuss application details with anyone outside of you. Additionally, we are unable to discuss individual credit reports with you. If you would like to discuss or dispute any information contained in your credit report, you will need to contact the consumer reporting agency that issued the report. We will provide you with the name and address of that agency upon request.
Once approved, your application will remain in good standing for a period of 30 days. If a lease is not signed or you fail to occupy an apartment within that time frame, you must re-submit the application for verification and approval, including payment of a new application fee.
All occupying residents must be listed on your lease agreement. No more than two occupants (excepting any children born during the course of the lease) may reside per bedroom. No more than two unrelated persons may occupy the same apartment.
The demeanor and behavior of rental applicants during the application process will be considered and evaluated at the sole opinion of Colonial Court Apartments. All occupants must be present for the application interview.